Cranes and heavy loads pose significant risks to life and property and the crane industry has strict OH&S guidelines which its members are required to follow.
Perth Cranes & Haulage adhere strictly to safety & insurance guidelines and maintain all of our cranes and equipment to the highest mechanical standards.
Our cranes all undergo an annual 'Cranesafe' inspection and carry the 'green sticker' to confirm that they have passed.
Our operators are highly skilled, with many years of experience behind them.  Each holds the relevant certificates of competence to operate cranes including successful VOC's (Verification of Competency assessments).
For further information about our safety procedures or for copies of our insurance certificates or permits, contact John Bate on 0418 949 682.
We are fully insured for all activities carried out during the course of running our business including third party property damage and public liability. We fully comply with Occupational Health & Safety (OH&S) guidelines imposed by the Australian crane industry to ensure our insurance cover is maintained.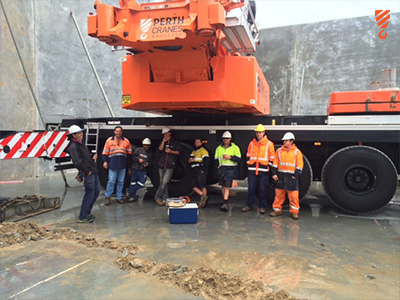 Sometimes it can be handy having a crane around.